Kerry McCoy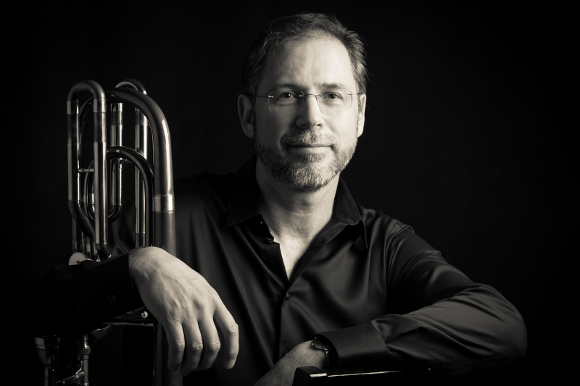 Kerry is originally from St. Louis, Missouri. As far back as he can remember in his infancy, he was always mesmerized by the sound of the Miles Davis recording, "Kind of Blue" (the only jazz album his family owned). He would instantly stop whatever he was doing and sit to listen to it. Kerry was born loving jazz.

He started playing trombone in the 5th grade. He picked the trombone because when the band instructor was introducing and demonstrating the different instruments, he said the cool thing about the trombone, as he played a jazz lick, was that you could play jazz with it. Kerry fell for it and has loved the trombone ever since.

He came to California for his freshman year to a high school with a great music program. Since they had a shortage of trombone players he was asked to play in the jazz band. To Kerry, this was incredible as he had never even been to see a big band before. He began playing bass trombone in his sophomore year. He was principal bass trombone for he California All State Honor Band for two years.

During his high school senior year, Kerry played in the Skyline College jazz band under the direction of Billy Robinson. Prior to enlisting in the Army band, he went to the College of San Mateo for one year and played in Fred Berry's jazz band. This band won the Sacramento Jazz Festival competition in 1976.

Kerry's first trombone teacher was Dick Leland. His early influences on trombone were JJ Johnson, Kai Winding, Urbie Green, Frank Rosolino, Carl Fontana, Curtis Fuller (you get the picture!)

He joined the US Army as a bandsman playing tenor and bass trombone and was stationed in West Berlin for 10 months (back when there was a West Berlin) and then at Bad Kreuznach West Germany for 17 months.

While stationed in West Germany, he played in a soul band named "Fire Point" and toured throughout much of northern Europe. He actually made more money in this band than what he was making in the Army!

After leaving the Army, he enrolled in the Cal State University Los Angeles (CSULA) music program under the direction of Bob Curnow. While in LA, he studied tenor trombone with Roy Main. He played tenor and bass trombone in various LA jazz bands including Gary Foster's big band at Pasadena City College and performed a full concert with Toshiko Akioshi.

In the late 80's, Kerry put down the horn for a time to go back to school and get an engineering degree, which lead to a career as a structural design engineer. He's one bass bone player who REALLY knows how to bring the house down!

He took up the bass bone again in 2000 to play for the Foothill College jazz band under John Gove. He also played in Louis Bellson's band for 4 years, playing in various jazz festivals and concert venues. Now he graces the stage with Horns a Plenty.

Kerry lives in the city of Alameda with his wife, Altagracia. In their free time, they enjoy gardening, working on house projects and spending quality time together.