Johannes Mager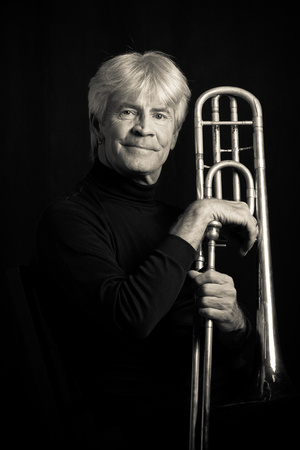 Trombonist Johannes Mager was born in The Hague, in the Netherlands. He began playing trombone at the age of 13. He always loved listening to his mother sing.

A graduate of the San Francisco Conservatory of Music with a Bachelors of Music in Trombone, Johannes loves free-form improv theatre, classical and avant-garde music. He has studied with Stuart Dempster, Ned Meredith, Mitchell Ross Johannes is an active composer and arranger of music for theatre and comedy shows. His musical influences range from Beethovan, Mozart, Tchaikovsky, to John Lennon, Charles Mingus, Victor Borge and just about anything he finds entertaining and inventive.

Johannes has performed with the Marin Symphony, San Francisco Sinfonietta, New Port Costa Players, New Music Ensemble, John Cage, Berkeley Opera Consortium, Antiqum Dell Arte Players, Suono Della Fontana, Gyorgy Ligeti, The Ghost Opera Company, Section 8 Project, Buttermilk, the Slaptones, Neurosis, Arch Ensemble, and many many more.

He's an experienced entertainer and toured world wide with The Brass Band.

Besides Horns a Plenty, Johannes can be seen performing and working with The Moist Towelettes (his own band, playing his compositions), the Last Men on Earth, Expo, and the Laurent Forgo Ensemble.

Johannes and his partner of 30 years live in a live/work loft space in Oakland. They have a large industrial artist space where his partner works as a textile artist and painter. They do what they can to survive and keep reality at bay. They have an amazing Blue Crown Conure (parrot) named Beanie, who they've had since chickhood and is now 8 years old. She's not caged, flies free and is a truly amazing creature. They live an eclectic and varied existence, keeping life interesting and constantly challenging... just the way they like it.