Jack Madden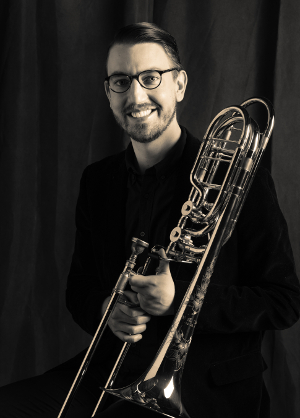 Jack Madden has been playing bass trombone in the San Francisco Bay area for over 10 years now, and he knows he's just getting started.

Jack is from Ohio, where he first grew to love classical music through his grandmother, who took him to orchestra concerts from the time he was 7 and always had the local classical station playing. His parents mostly listened to the oldies (especially Peter and Gordon - look them up), and in high school, he got into jazz.

Jack studied with James DeSano of the Cleveland Orchestra at the Oberlin Conservatory, and Murray Crewe of the Pittsburgh Symphony at Duquesne University. While at Oberlin, he was introduced to both early music and very modern music, and he learned bass sackbut and attempted to be a harpsichord player.

Flush with a bachelor's and master's degree in music performance, Jack moved to San Francisco for a 9-to-5 job. However, within weeks of arriving, a composer friend at Mills College asked him to perform, and he was off to the races in the music scene.

Today, Jack is a member of Horns a Plenty, the Bay Area Rainbow Symphony, and Brassavola Brass Quintet (on tenor trombone). Jack also plays regularly with the Youth Musical Theatre Company. Other appearances include Bay Area Musicals, Cal Arte Ensemble, the UC Berkeley Symphony Orchestra, Symphony Parnassus, Return of Uncle Ted's Photos (an ensemble dedicated to a the structured improvisation framework known as conduction, invented by jazz musician Butch Morris), and in Union Square around the holidays.

Jack lives in San Francisco, and in addition to playing music, he enjoys running, photography, and dabbling in all types of design.