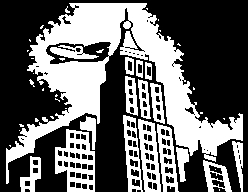 Alameda, California
Back in 2007, Horns a Plenty started out as a collection of players reading through the standard brass quintet literature of Gabrielli canzonas and Johann Pezel baroque tower music. The band leader, Russ Button, had done a lot of that kind of playing back in his early college days but had since played in and lead swing big bands, off and on, over the next 30 years.
Like so many other musicians, Russ wanted to take his art form and do something new with it. With his big band sense of sound and swing, he replaced the traditional French horn with a tenor trombone and the tuba with a bass trombone. French horn and tuba certainly have their place in symphonic music, but Russ wanted to do many more styles than the standard classical repertoire. He's always loved the rich sound of a trombone choir and felt that trombones had a more focused sound and better attacks than French Horn and Tuba.
Early on, Eric Wayne joined the band. At the first rehearsal he showed up with his B-flat trumpet, C trumpet, cornet, flugelhorn, D trumpet and his slide trumpet! Russ was inspired to upgrade both his cornet and flugelhorn and they remain a staple in the ensemble to this day.
Over time, the music became more demanding and consequently, the level of the players rose to meet the challenge. Horns a Plenty long ago ceased to simply be a casual reading band. All of the players perform as professionals.
By 2012, Horns a Plenty had amassed a sizeable collection of jazz and swing arrangements, but was still missing the element that would truly bring all of that alive. That's when we added a drummer to the band. A rhumba ain't really a rhumba without drums.
Is Horns a Plenty a brass quintet? Err... Sort of.
Is Horns a Plenty a brass band? Uh... Sort of.
Is Horns a Plenty a swing band? Ummm... Sort of.
There is no other brass quintet that we know of, which has the instrumentation and covers quite the breadth of styles that does Horns a Plenty. What then, is Horns a Plenty? We play music in a wide variety of styles - classical, Park Band, ragtime, swing, jazz, love songs, sad songs... We've played for the Stanford Law School and San Francisco Art Institue graduation ceremonies. We've played for wedding ceremonies and memorial services. Hey! Who doesn't want to go out to "When The Saints Go Marching In!" We've played for ballroom dancers and we've played for belly dancers.
What kind of band would you call us? Well you can call us whatever you want. Just call us!
One special chapter in the Horns a Plenty story has been the relationship they've developed with the Kipp-Bridge Elementary School in Oakland, California. In 2011, one of the players saw a notice that Kipp-Bridge was looking for a brass band to come perform for their 6th grade music students, most of whom had never seen live, professional level horn players before.
We went in and presented a program with a variety of musical styles with the intent to show what it is to play in an ensemble. We emphasized how we listen to each other and play with dyanmics. We used mutes and horns of various kinds, and most of all, we showed them the simple joy of making music as friends.
Afterwards we found out that the Kipp-Bridge music program consisted of 80 students playing recorder and 8 students in their band. Why only 8 students in the band? Because they only had 8 instruments!
Horns a Plenty has donated 15 instruments - a mix of cornets, clarinets, trombones, a flute and a saxophone, all refurbished like new. Now Kipp-Bridge has a real school band with more than 2 dozen enthusiastic players. When we visited Kipp-Bridge in 2013, their band performed for us and we performed for them.
But the story didn't stop there. Now that the band teacher had a real band program, she was then able to apply for a grant. In 2015 the school received a grant from the Mr. Holland's Opus foundation for 70 new band instruments and they now have a thriving music program.
It is a well known fact that children who play musical instruments are more engaged in school and do better in their academics. The Horns a Plenty players have played music all of their lives and this has been our chance to give that love back to some of those who need and appreciate it.